Refrigerator repair, Washer & Dryer repair, Dishwasher repair and all major household appliance repairs for Lancaster, CA and the entire Antelope Valley, CA.

| | | |
| --- | --- | --- |
| Lancaster Appliance Repair Service in Lancaster, California | | |
If you've been searching for "appliance repair Lancaster, CA", 93534, 93535, 93536, 93539, 93584 & 93586, then you've come to the right place. We are B&D Appliance Repair Service and we've been repairing home appliances for the people of Lancaster since 1998.

We offer in-home repairs & service for your refrigerator, freezer, washing machine, dryer, dishwasher, stove, oven, range, cooktop, garbage disposal, icemaker and all home & kitchen appliances.

Brands we service include Whirlpool, Kenmore, Maytag, General Electric, Frigidaire, Kitchenaid, Roper, Kirkland, Estate, Tappan, Okeefe & Merritt, Gaffers & Sattler, Magic Chef, Amana, Admiral, Westinghouse, Crosley, G.E., Hotpoint, Sears, and most major appliance brands.

We also service the cities of Palmdale, Quartz Hill, Acton, Rosamond, Littlerock, Pearblossom, Lake Los Angeles, Juniper Hills, Llano, Leona Valley, Lake Elizabeth, Green Valley, Lake Hughes, Antelope Acres, Ana Verde and the entire Antelope Valley, CA.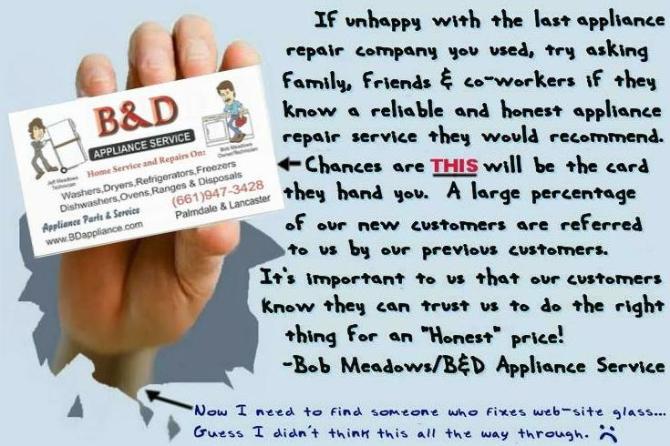 An Appliance Repair Service You Can Trust
(with a sense of humor)

Before you decide which appliance repair company you should call, please take a look at some important information that will help you with your decision. Even if you decide to go with a different company, this information will help you find one that is right for you. You can click on each title and it will take you to that page.


We also offer Advice For Do-It-Yourselfer's and would be glad to answer any appliance questions you may have. If you're trying to decide if it's better to repair or replace one of your home appliances, check out my blog titled "Appliance Repair or Appliance Replace?" You'll find information there to help you make that important decision.

We also sell appliance parts in Lancaster CA for the lowest price you'll find here in the Antelope Valley.

We are a small, family-owned business with over 30 years experience repairing household appliances and we would like to be the appliance repair company that you trust to call here in Lancaster, CA. For much more information check out our main website at appliance repair Palmdale, CA.

You can also learn more about us at Appliance Repair Antelope Valley, CA.

Contact B&D Appliance Repair Service at (661) 947-3428 askbob@bdappliance.net


Appliance repair Lancaster, CA accepts these credit cards
| | |
| --- | --- |
| | |
| "If You Use Us Once,...You'll Use Us Again!" | |